All Day Energy Green Zing
Posted: Monday, May 26, 2014
The All Day Energy Greens is a dietary supplement drink that comes in the form of a powder that can give you the equivalent of 5 servings of fruits and vegetables in each serving and claims to provide you with lifelong health. The powder is to be mixed with water, non-citrus juice or another drink of your choice.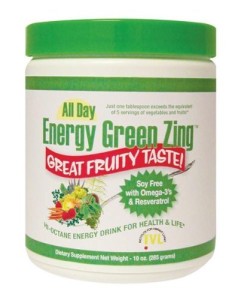 All Day Energy Greens is an all natural product and contains no allergens (wheat, bee pollen, garlic, MSG, yeast, egg, kelp, artifical coloring, preservatives, flavouring salt, starch, maltodextrin, corn fats, oils, stabilizers, casein, dairy or animal products). This product does not contain herbicides or pesticides and is environmentally friendly in its cultivation process.
The powder dissolves easily therefore making is easily digestible and is flavored with stevia that is a natural sweetener to provide a great taste. Natural sweeteners themselves are a good way to lose weight. Since natural sweeteners reduce your cravings for sugars and other sweeteners. Hence, lowering your glucose, blood, cholesterol and sugar levels naturally, which can be a great option for people with diabetes.
CommentsWrite a Reply or Comment: