Does Eatmor Appetite Stimulant Work?
Posted: Thursday, June 26, 2014
Many hard training athletes can find it difficult to put on lean muscle mass. Despite the many protein powders, creatine and weight gainers there are on the market the importance of proper diet and simple calories can not be replaced.
VH Nutrition has an innovative supplement called Eatmor Appetite Stimulant that stimulates hunger and is an all-natural appetite booster that begins working within the hour allowing you to activate your hunger immediately. It is a 100% natural supplement that effectively boosts your appetite during the day and will eventually have you eating more and stacking on the lean muscle mass you deserve. It works by stimulating the production of ghrelin in the body. Ghrelin is known as the hunger amino acid and is a stimulating peptide.
Another important note is that any deficiencies in vitamins can cause a loss of appetite. Be sure to have the RDA in the required Vitamin E, D, B1, B2 and Zinc in your diet.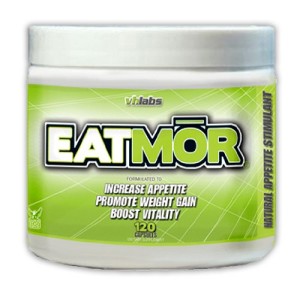 – From the VH Nutrition website:
Customer Q & A

Q. Does Eatmor™ have any side effects?
A. None have been reported, Eatmor™ is a natural orexigenic product with none of the side effects of many appetite stimulating drugs, and at a fraction of the price.

Q. How long does it take to work?
A. Most users report hunger symptoms with one hour of the first use, typically at a serving size of 4 capsules.

Q. Does Eatmor™ work for everyone?
A. Most people will respond favorably to Eatmor,in varying degrees of effectiveness. Some users have gained up to 20lbs in 8 weeks using Eatmor, though those results are not typical.
CommentsWrite a Reply or Comment: