Grilled Broccoli and Shrimp Salad
Posted: Wednesday, April 23, 2014
Ingredients:
– 1/3 cup plus 1 tablespoon extra virgin olive oil (80ml & 15ml)
– 2 teaspoons chilli powder (10ml)
– 2 heads of broccoli that are cut into large florets
– 2 finely chopped cloves of garlic
– 1/4 cup of fresh lime juice (60ml)
– 1 pound raw shrimp, shelled (450g)
– Sea salt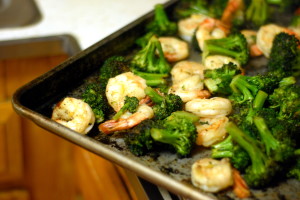 Directions:
1. Using a medium sized bowl mix the 1 tablespoon of olive oil, lime juice, chilli powder and garlic.
2. Add the shrimp and stir until covered with the sauce.
3. Lightly salt and let it marinate.
4. Heat a grill to medium-high.
5. Thread the shrimp on skewers.
6. Place the broccoli in a large bowl and drizzle the remaining 1/3 cup of olive oil evenly over the broccoli. Add a few pinches of salt
7. Grill the broccoli for about 8-12 minutes until the tips are evenly charred.
8. Grill the shrimp skewers for about 2 minutes on both sides.
9. In a large bowl toss together the broccoli and shrimp. Squeeze some fresh lime juice on top.
10. Voilà!
Servings: 4
CommentsWrite a Reply or Comment: