Paleo Breakfast Recipe: Eggs Baked in Avocado
Posted: Thursday, March 20, 2014
Avocado breakfast
Easy and delicious, Avocado breakfast cups make an excellent breakfast idea. Beyond the heart healthy Omega 3 fatty acids from the avocado and eggs there is also a high protein count. The healthy fats and protein from the eggs will give you lasting energy while the potassium from the avocado will help lower your bad cholesterol.
There are also endless topping options that you could add: cheese, salsa, diced tomatoes, sliced green onions, hot sauce, etc.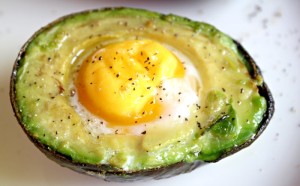 Ingredients:
2 ripe avocados
4 fresh eggs
1/8 teaspoon pepper & salt
Toppings of choice
Directions:
1. Preheat the oven to 220 degrees.
2. Cut the avocados in half, and carefully remove the pit. If they are small avocados scoop out about two tablespoons of flesh from the centre of the avocado, just enough so the egg will fit snugly in the centre.
3. Place the avocados in a small baking dish. Do your best to make sure they fit tightly.
4. Crack an egg in each avocado half and sprinkle with sea salt and pepper.
5. Place in the oven and bake for 15 to 20 minutes. Cooking time will depend on the size of your eggs and avocados. Just make sure the egg whites have enough time to set.
6. Remove from oven, Top with desired toppings while still hot and Enjoy!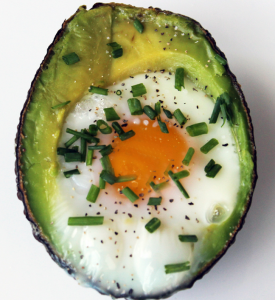 Nutrional Information:
Roughly 450 calories per serving
CommentsWrite a Reply or Comment: